Our most popular print, The Breeze
We offer thousands of floorplans, from multiple manufacturers, but time and time again, there is one floorplan that comes out ahead. The Breeze has been one of our most popular prints for some time now. Why? Let's find out.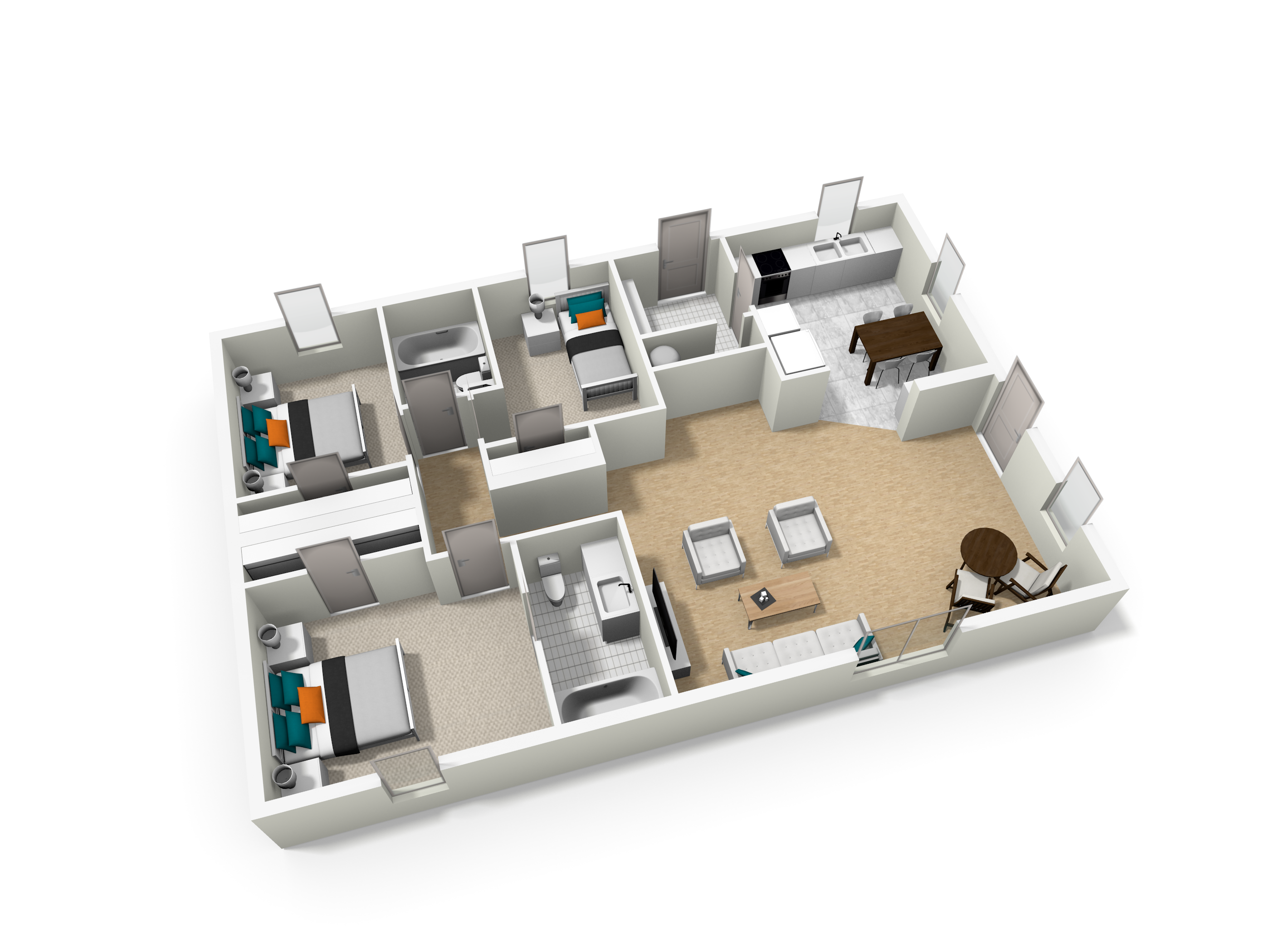 Short in length, BIG on character
The Breeze is not your typical manufactured home. Unlike most two sectioned homes, this floorplan is much shorter than your standard double wide. A shorter length, combined with two sides to the home, make for a floorplan that flows a lot more naturally and feels more like a stick built home. Instead of walking down a long hallway, the bedrooms are easily accessible after walking through the living room. You don't feel like you're being channeled down the length of the home, and will instead walk out of your bedroom and turn left, to be greeted with the kitchen. The smaller size format has been a hit with our customers, with many of them telling us it really doesn't feel like your typical mobile home, but feels like a house instead.
Functional Layout
The living room is really the centerpiece of this print. Situated right in front of the entrance, this is the first room you'll see when you enter the house. To your right will be the kitchen, and in front of your are the bedrooms. This layout encourages a relaxed atmosphere. While things are relatively open, the kitchen is actually somewhat closed off. The doorway leading there is not a super-wide entrance, but is framed to be a bit smaller. This allows for a separation of concerns, so any kind of cooking, baking, or cleaning going on in the kitchen wouldn't interfere with the relaxation occurring in the living room. The best arrangement we've seen in this floorplan is when the couch is on the left against the wall. The couch faces the wall that is against the kitchen, so although you may not hear what's going on in there, while watching tv or lounging you'll be able to see the coming and going of everyone in the house.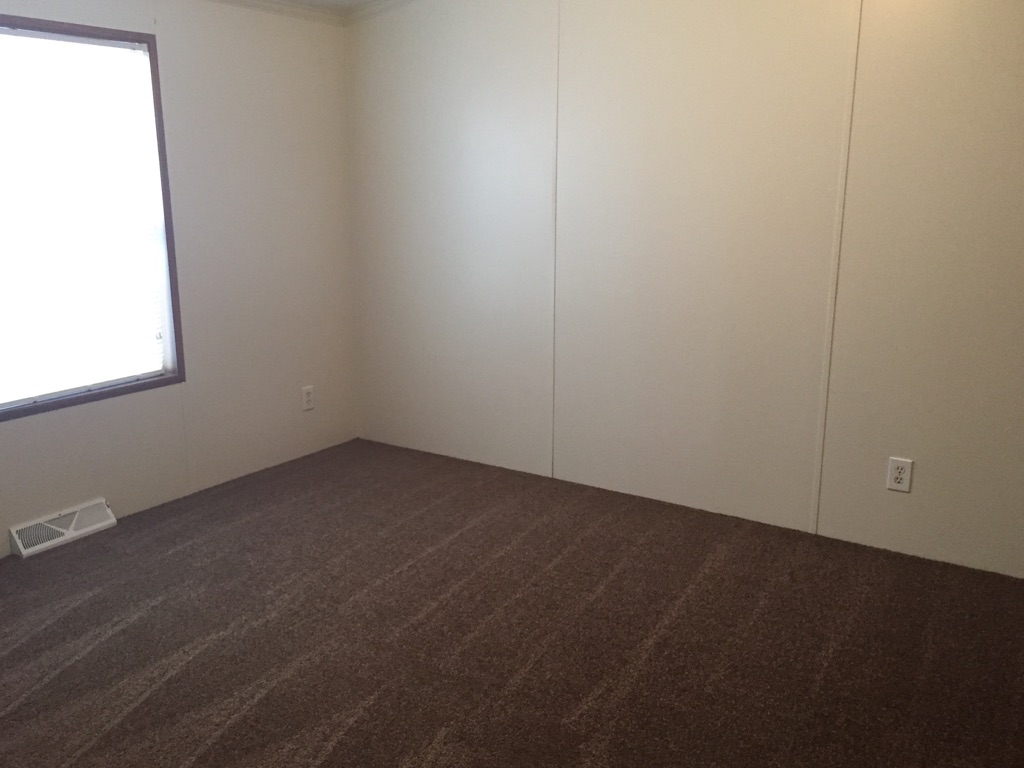 Three Bedrooms is all you need
Most single wide homes are built with 3 bedrooms. Why? Three bedrooms seems to be the perfect amount for a growing or mid-sized family. If you're a couple and have a couple of kids, this works out perfectly. Of course, there will be two people sleeping in the master bedroom, which gives room for at least 2 kids (or more if you have a bunk bed). So, a 3 bedroom single wide can sleep up to at least 5 or 6 people! This lands squarely within the bounds of an average American family. With this magic number (3) the Breeze has been built. By including no more than 3 bedrooms in this double wide, you are able to save money while getting a home that perfectly fits the size of your family. If you're looking for something a little smaller, with rooms just a bit more expansive, we can also build this print as a 2 bedroom home. Whatever the size of your family, we can accommodate! By creating a print that is efficient, and includes only the number of rooms you'll need, you will save money. It's like we built a single wide print in the format of a double wide, and the savings show through!
A most unique design
One of the things we love about this print is where the laundry room is located. Burrowed next to the kitchen, this separation keeps the laundry away from the rest of the household. You will typically see a laundry room included in the hallway as you walk down the length of a home. While it is easily accessible here, it also interrupts the flow of the house. Why would you have a laundry room amongst bedrooms? Instead, The Breeze puts the laundry room where it needs to be, in the part of the house that you won't be using all of the time or don't necessarily need to walk through! One benefit of this location is you can cook food while keeping an eye on your delicates, something that can't be done in any other floorplan.
Carpet Throughout
The only tiled or marbled part of this home is the kitchen and laundry room. While you still have the option to put tile, marble, or linoleum elsewhere in the house, this is the default setup. The carpet leads all the way up to the front door, so if you're having a lazy Sunday you can go from your room, to the bathroom, to the living room, and out the door all without having to touch a hard surface. Take your comfortability to the next level with The Breeze double wide or modular home.
This home isn't your typical layout. There is no hallway to the bedrooms, a feature that sets this print apart from most mobile homes. There is a private, master bathroom, and master bedroom. All bedrooms also come with their own closet, which is a plus. A roomy living space and kitchen / dining room combination make for a very livable layout. But here's the best part, this floorplan can also be built as a modular home. That's right! Building it as a modular home and putting it on a basement is one way our customers have maximized the utility of this floorplan. Basements are known as one of the easiest ways to add square footage to your home, for less. By putting this one a concrete basement you will instantly double the amount of floorspace available to you and your family. This home is offered from our manufacturer based in Ohio, however, we can use this floorplan with any manufacturer. How this works is we bring it to the new builder, and they will have to "engineer" the floorplan (often for a nominal fee) in order to certify it for their factory. Once it's certified, it can be built. Order one, two, five after that! The Breeze is certainly a unique floorplan with a layout that you'll fall in love with. That's why we make sure we have one on display as often as possible (which is easy since they get ordered so much).